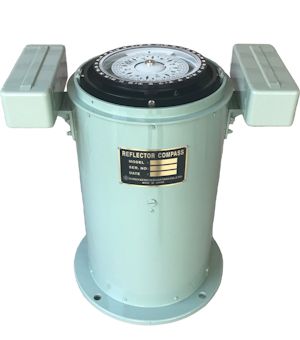 反射式コンパス
REFLECTOR COMPASS
SR2-150PK, SR2-150PKK(Type Approval:
4802
)
Outline drawing(PDF)
SR2-165PS, SR2-165PSK(Type Approval:
4803
)
Outline drawing(PDF)
特長
反射式コンパスSR-150PKは、アッパーブリッジに装備し、原基用コンパスと操舵用の兼用として操舵室で見る様になっている。
ビナクルには、操舵室の上部の前方にカードの目盛りが反映されるように光学機器が装備されている。これは船価の低廉化、磁界の効率化さらに操舵室を広くするのに役立っている。しかも従来品より反射像の倍率アップ。
Reflector Compass type SR2-150PK SR2-165PS is installed upon the flying bridge deck and can be seen in the wheelhouse for both standard compass and steering purposes.
The binnacle has an optical equipment by which the graduation of the card can be reflected on the lower part of the inner pipe. This avoids the bad effect due to other magnetic substances also saves the space in the steering room.
By increasing the magnification on the reflected graduation using the built-in room lens, reflector compass surpass the conventional compass.
操舵室側(in the wheelhouse)

Compass Card


設置事例(舛宝山丸様)
-Masuhozan Maru- 499GT 1600DW
カラーリングはオプション仕様